As BMW fanatics ourselves, we get it
We understand the pride you take in your BMW - keeping it in top performance shape, adding custom upgrades, and maintaining that smooth, powerful ride.
We offer a full line of standard and performance auto services and maintenance for BMWs in Atlanta, including performance upgrades and custom BMW services.
Experience the best BMW services in Atlanta and the car community you always wanted!
BMW Services, Repairs, & Upgrades We Offer
"Great shop.  I'm a BMW enthusiast living Midtown - with 4 BMWs I am constantly in need of service.  I am used to having to travel a good bit for good service.  I was recently referred here and decided to try them for an oil change.  The staff were incredible - very quick and friendly.  The "social" part of the shop is a difference-maker:  comfy furnishings and plenty of entertainment.  Very glad to have these guys in the neighborhood."
Why have Autohaus Social
Service Your

BMW

?
Having a Smooth Ride is Easy
Request An Appointment

Tell us about your BMW and the work that needs to be done.

Bring In Your BMW

Drop off your car on the day and time it is scheduled.

We Do The Work

 Our portal allows you to follow the technician's work on your BMW in real-time.

Love Your Ride!

 Have peace of mind knowing your BMW is operating the way it should.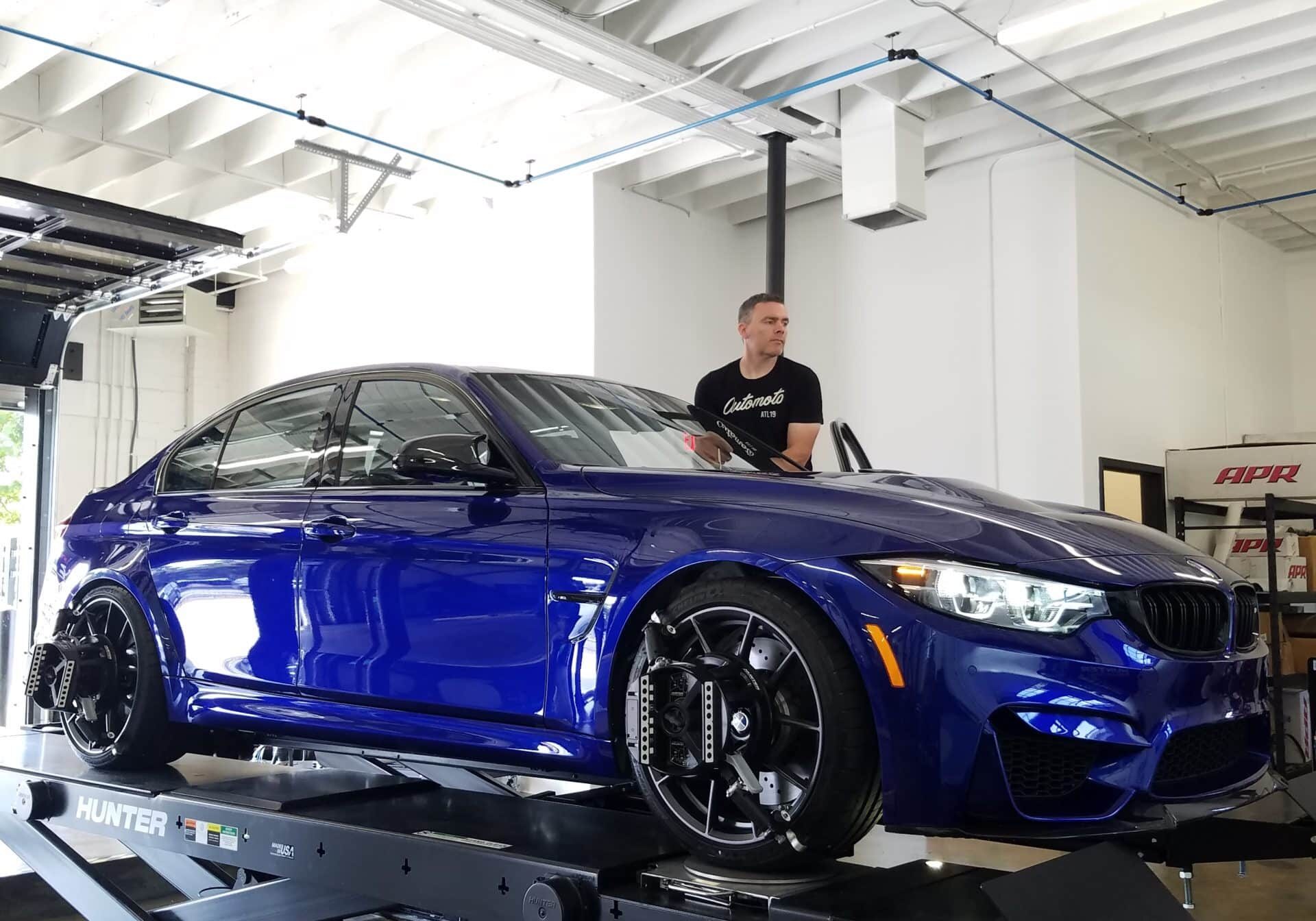 Carbon build-up

in the direct injection fuel system

Oil leaks

due to failed PVC Systems
Questions on the BMW Services We Provide?
Many manufacturers have increased the oil change intervals in recent years, but for long-term care of your car we suggest performing a BMW oil change at the following intervals:
For BMWs under 70,000 miles, change the oil every 7500 miles.
For BMWs over 70,000 miles, change the oil every 5000 miles.
For performance BMW models, we suggest an oil change every 5000 miles regardless of the mileage due to the rigorous demands of a performance engine.
There are two specifications that you need to consider when buying or adding oil to your BMW:  The weight of the oil and the specific Add Pack.
Oil weight:  This maintains the proper crankcase pressure, and needs to be correct for the car (such as a 5w40 or 5w30 synthetic oil).
Add Pack:  This is the designated amount of chemicals in the oil to improve the oil's and engine's long-term performance.  Add packs can include corrosion inhibitors, detergent additives, anti-oxidation additives, etc.  The Add Pack designation should be clearly marked on the oil container and bottle.
For proper maintenance, never use old oil in your BMW! 
Most vehicles have the minimum octane rating on the gas cap or on a decal inside the fuel door.
However, for any European vehicle, it is advised to use higher octanes or premium fuel (91 or 93). 
Using a higher or premium octane burns cleaner and more efficient.  While this costs a little more at the pump, it is well worth the added cost to maintain your BMW's long-term performance.  
Yes, it does.  Along with the higher octane fuel needed to help maintain a BMW's performance, it is also important to purchase good fuel.
Here are several best practices for buying gas:
Buy fuel from a busier station.  The longer fuel sits in the underground tank, the more debris is likely to build up in the fuel and compromise the fuel's chemical makeup.
Purchase only "top tier" fuel.  Stations with top tier gasoline will usually have a decal at the gas pump, or you can search online.
Do your research before buying from retail giants with fuel stations (Walmart, Kroger, etc.).  These stores vary in the quality of their fuel, so make sure they have quality fuel before purchasing from their locations. 
No!  Under the "Right To Repair Act," it is illegal for a dealer or manufacturer to require that service be performed at the dealer unless it is a safety recall.
In terms of basic BMW service and maintenance, as long as the required fluids and procedures are followed, an independent BMW service center can service your BMW without the risk of causing warranty issues. 
All fluids and parts eventually break down over time and prolonged use.  Many large problems can be avoided by keeping a proper maintenance schedule.
It's actually pretty simple - the better you take care of your BMW, the longer it lasts!
Here is what we recommend for regular BMW service:
Oil changes every 5000-7500 miles.
Brake fluid changed every 3 years or 30,000 miles.
Coolant exchange or flush every 40,000 miles.
Tires rotated at every service.
If you are unsure what the best service plan is for your BMW, check your owner's manual or give us a call.  As your local BMW service center in Atlanta, we would love to help you!
You probably can continue driving, but you probably shouldn't.
The "Check Engine" light is a warning about one out of thousands of potential issues in your Porsche.  Even if the issue is minor, the longer you drive with the issue the more it has potential to become a bigger problem.
If the issue is physical, then you need to service your BMW immediately.
If the "Check Engine" light flashes, then shut off your Porsche and have it towed.
In newer vehicles, if the issue is critical, they will sometimes go into a "limp mode."  This restricts the BMW's driveability, shuts off nonessential systems (such as air conditioning or the traction control system), and often puts a cap on the speed you can drive.
Your Local Atlanta BMW Service Center
We know you want to keep your BMW running at top performance.
It doesn't matter the model or age, you want your BMW to run smoothly and be a car you can be proud of!
We are your local service center for BMW cars.  We offer a full line of skilled service - from basic engine maintenance to performance upgrades.
Our mission is simple:  We take pride in our skills and our passion for both cars and community, and we strive to provide an environment where BMW service, performance, and lifestyle come together.
By using the latest technology, the best parts, and skilled technicians, we make your BMW something that you will love driving for years to come!
Visit us today at Autohaus Social - your local European car service center in Atlanta!
Learn More from Our Blog!